CowSignals® Training Company and Vetvice® will continue as two independent companies. This is to better enable both companies to successfully realize their vision, strategy and daily services to clients. Cowsignals® Training Company offers various training courses for farmers, veterinarians, and others involved in dairy farming in the area of animal health, animal welfare and sustainability. Vetvice® continues with consultancy in the area of barn design and housing, nutrition, dairy farm management and labor management.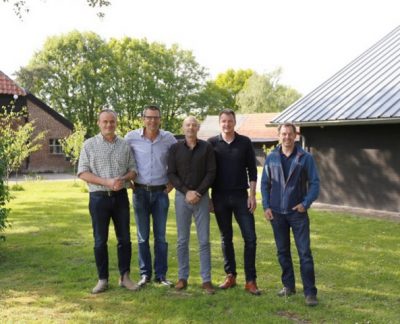 The origin
Vetvice® was founded in 1997 by the veterinarians Joep Driessen and Jan Hulsen, to focus on consultancy, projects and training in the international dairy industry. A few years later they started Koesignalen®, which has grown into CowSignals®. With a growing number of competent, empowered staff, and by co-operating with a network of experts, Vetvice® CowSignals® expended nationally and internationally.
CowSignals® Training Company
Cowsignals® Training Company believes in taking responsibility. Therefore CowSignals® TC will focus on training in the field of animal health, wellness and sustainability which is reflected in the motto: Happy Cows, Happy Farmers, Happy Planet! CowSignals® Training Company is completely independent and worldwide active. "CowSignals® wants to provide independent and reliable scientific knowledge about health, the wellbeing of the cow and sustainability," explains owner Joep Driessen.
"Because of the different activities and strategy, we decided to split up," Rik Neeleman, Managing Director continues. "Our activities are growing enormously. We need sufficient time and attention to do our business. Training is never finished and should be kept up to date, especially in the current digital era. This requires focus, a targeted approach, and investments."
Vetvice®   
Vetvice® continues with consultancy in dairy farming, first in the Netherlands and neighboring countries, but also global. Co-owner Bertjan Westerlaan: "Vetvice® is also very busy on its specific work areas. We are very ambitious in the further development of our independent nutritional advice and management support." The two fellow owners Nico Vreeburg and Jan Hulsen add: "Being busy certainly applies to our barn design activities and climate and ventilation consultancy. Also, we are launching a program this fall called Labor & Milking. This is about working with protocols, labor efficiency, and labor management. "
Cooperation     
CowSignals® Training Company and Vetvice® continue to work closely together in collecting, developing and validating knowledge in the field of dairy farming.